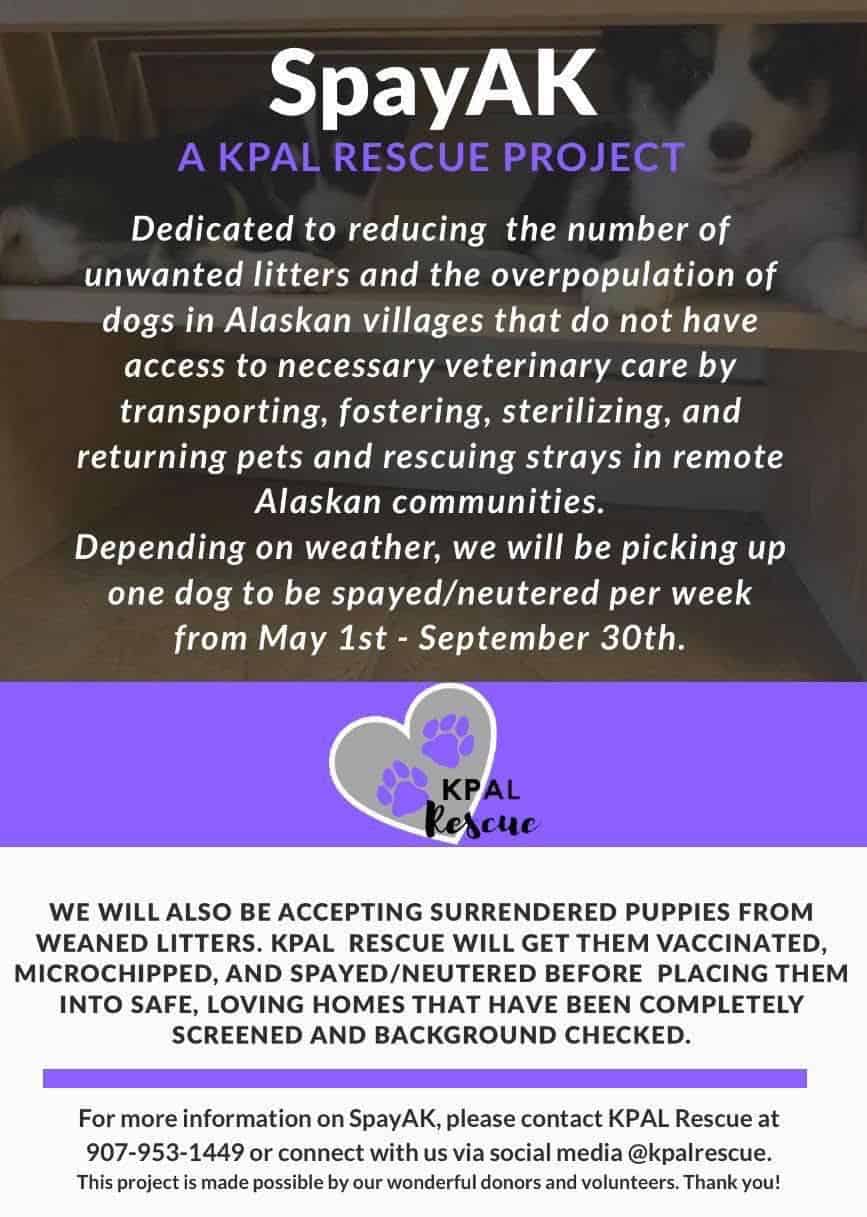 SpayAK: A KPAL Rescue Project.
This project is dedicated to reducing the number of unwanted litters and the overpopulation of dogs in Alaskan villages, that do not have access to necessary veterinary care, by transporting, fostering, sterilizing, and returning pets and rescuing strays in remote Alaskan communities. Dependent on weather and foster availability, we will pick up one dog to be spayed/neutered per week during the summer from May 1st to September 30th.
We will also be accepting surrendered puppies from unplanned/unwanted weaned litters from these villages. KPAL Rescue will get them vaccinated, micro-chipped and spayed/neutered, then place them in safe, loving homes that have been completely screened and background checked.
This mission won't be possible without the support of our community!
If you're interested in becoming a short-term foster (10-12 days) for the dogs that are flown in for this mission, please visit https://kpalrescue.org/foster-volunteer/. We provide the dog's food and supplies, you provide the love and safety until they are flown back to their families!
If your heart feels led to donate towards this cause, please feel free to donate!"
SPAY IT FORWARD!
We often get questions from those who have had an "oops" litter of puppies. Typically these inquiries can't afford to get all the pups the veterinary care they need yet want to get them into safe & loving homes and to get the mother dog spayed to avoid any more unwanted litters in the future. We have a "Spay it Forward" program that helps us to do just that.
If you have, or know someone who has, an "oops" litter, here are the steps required:
•Contact Kenai Peninsula Animal Lovers (KPAL) Rescue
•Surrender all puppies of the litter to KPAL Rescue
•We will ensure the puppies receive vet care (including vaccinations, microchip, spayed/neutered, etc.) as they age
•KPAL Rescue will screen and place the puppies into safe, loving homes
•KPAL Rescue will arrange the spay appointment of the mother with the owner and will pay for that surgery
This program is made possible through donations from our wonderful and generous donors. By surrendering all puppies of the litter, this program is provided at no-cost to the owner of the mother dog. It's a win/win for all involved (puppies, mama dog, and owner)!"